About The Ningaloo Reef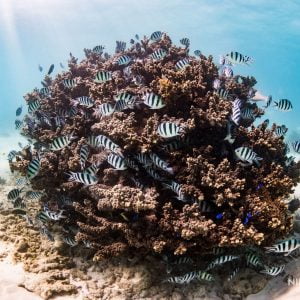 The Ningaloo Reef and surrounding coastal area is a UNESCO World Heritage Site located in Western Australias north west. Located approximately 1,200 kilometres north of Perth, Ningaloo Reef is one of the longest fringing reefs in the world spanning almost 300 kilometres along the WA coast. This allows for incredible snorkelling only meters from the shore, as close as 5 meters from the beach! Ningaloo Reef is one of only two coral reefs in the world that have formed on the western side of a continent and is home to 500 species of fish, 300 species of coral and hundreds of other marine creatures.  The coral in the Ningaloo Reef act as a vital source of coral larvae dispersing through the Abrolhos Islands, and even to Rottnest Island. Both soft and hard coral are native to the area, from cabbage corals, brain corals and lavender corals to delicate colourful branching corals, which form gardens in the shallow lagoons.
Most famous for its population of Whale Sharks predominately throughout March to August, Ningaloo Reef also boasts a huge array of other large marine animals. Dolphins, dugongs, manta rays, humpback whale sand turtles are seen daily in its waters. Humpback whales pass by during the winter months on their annual migration north to give birth to their young calves before migrating south again past the reef back towards their feeding waters in the southern ocean. The beaches of the reef are an important breeding ground of the loggerhead, green and hawksbill turtles. They also depend on the reef for nesting and food.
In 2006, researchers from the Australian Institute of Marine Science discovered gardens of sponges in the marine park's deeper waters that are thought to be species completely new to science. The short-nosed sea snake, thought to have been extinct for 17 years, was found on Ningaloo Reef in December 2015.
The Ningaloo Reef is an extraordinary world of life and holds huge importance for the health and survival of many forms of marine life, most of which can be seen less than a kilometre from shore.It contains an endless list of spectacular snorkel and dive sites for you to explore. Its abundance of extraordinary marine life is what brings us, and thousands of people to this special slice of paradise. Below you'll find some information on some of the Wildlife you can expect to encounter.